Ornamental Garden Lighting has been established to work in close partnership with garden designers, landscapers, architects and private owners to enhance and complement their skills and passion.
With specialist knowledge and considerable practical experience in the field of exterior lighting and electrical installations.
Designated areas can then be sympathetically lit to create dramatic effect through the windows of the client's home or business and can include areas of serenity for entertaining or areas with more practical lighting for swimming pools, garden steps, drives or barbecues.
All the electrical work carried out by ogl is completed by qualified electrical contractors and is conducted under either the Minor Works Regulations or Part P of the Building Regulations with a NICEIC certificate issued where appropriate. This, combined with our own comprehensive insurance, ensures that you can have complete confidence in the exterior electrical or garden lighting installation.
The scale of the work ogl carries out varies enormously from commercial installations, to large private estates, right down to smaller residential gardens… but whatever your project may be, we can assure you of the same attention to detail and professional service.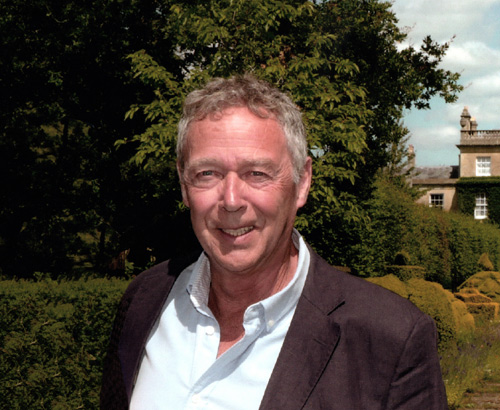 Michael Shackleton, ogl's senior lighting designer, came to garden and architectural lighting from a background of 35 years in film production as a Director of Photography and later as a Director. Michael formed Ornamental Garden Lighting as a direct result of the owners of featured locations asking to have the same dramatic cinematic lighting effects recreated for their homes and gardens, so they could enjoy the result on a daily basis.
In 2014, Ornamental Garden Lighting took part in a national competition run by The Times newspaper, where the prize for small to medium-sized enterprises (SMEs) was to be mentored by Simon Woodroffe, star of 'Dragon's Den' and the multi-millionaire founder of Yo! Sushi.  After achieving the final shortlist of 10 businesses, ogl were successful in being one of 5 companies that won this once-in-a-lifetime opportunity.
The intimate one-on-one mentoring program with Simon helped improve ogl's business operation, the service-offering to our clients and the creation of new business opportunities. A fantastic experience that really benefited the business.
The positive result of Simon's mentoring can be seen in the 'GLO' section of this website. Acknowledging the quality of the light fittings and installation materials ogl used in its larger jobs, Simon felt there should be a more 'standard' form of garden lighting that took advantage of those key attributes but instead of being bespoke, was designed in a way that had fixed-price options for smaller gardens.
This is the premise of how glo was created and so far we have supplied and installed a number of these garden lighting packages for clients, with interest steadily growing.